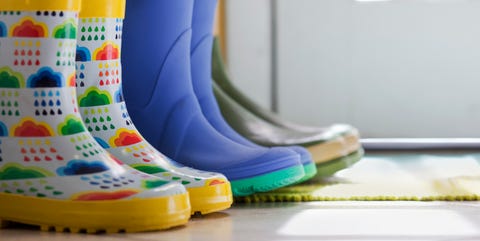 The mudroom is the drop-zone for all that stuff coming in and going out of the house, and when it's set up right, it can make your life that much easier. Even if your home technically doesn't have a "mudroom," we all have that small landing spot where we dump our bags, toss our shoes, and leave things out as a visual reminder — so no matter what you're working with, we've got you covered. Use doormats on both the inside and outside of the door to stop dirt in its tracks. Baskets, bins, and hooks can corral an overflow of hats and shoes. For big families, think about using lockers and cubbies to give each person their own designated space. Don't forget about adding a bench or chair for pulling on boots. Then come the cute decor fixes, like artwork, rugs, and bold paint or wallpaper to make this functional zone just as stylish as the rest of your house. Check out these smart mudroom storage solutions and pretty decorating ideas that will make you love even the humblest entryway, and watch the ripple effect of organization flow throughout the entire house.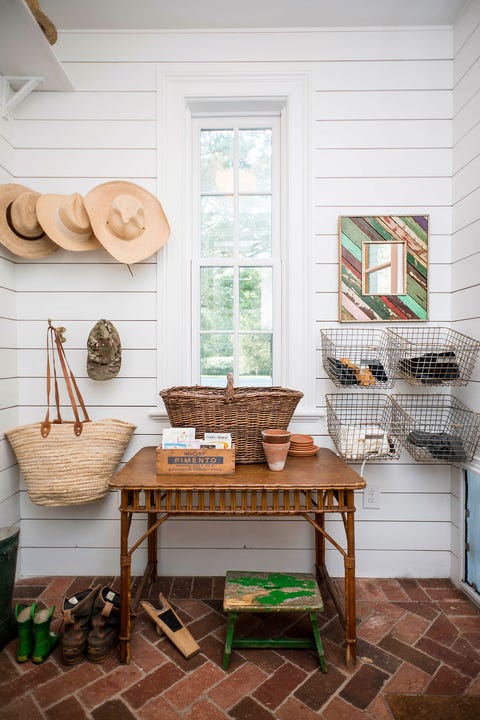 Create the perfect rustic vibe simply by hanging some wire baskets for see-through grab-and-go storage. An old wood table can act as a landing spot for gardening tools.
SHOP WIRE BASKETS
See more at Alys Design »
2
Steal Space From the Laundry Room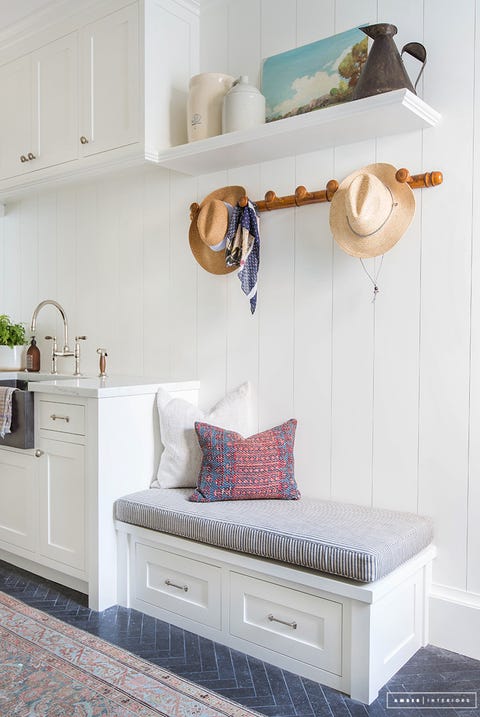 No space for a full-sized mudroom? No problem. Place a mini bench right in the laundry room with some hooks that can double as a place to hang clothes, bags, and hats.
SHOP HOOKS
See more at Amber Interiors »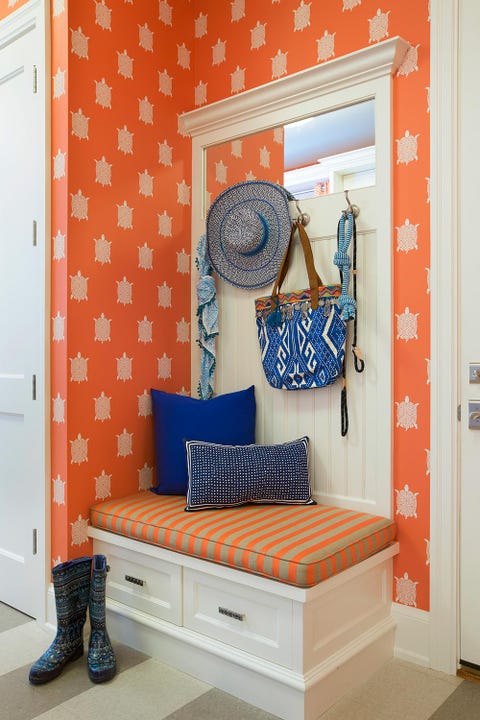 Because it's a room you don't spend a ton of time in, go ahead and cover the walls with a bolder-than-usual wallpaper — it'll put a smile on your face every time you walk in the door.
SHOP WALLPAPER
See more at Lucy Interiors »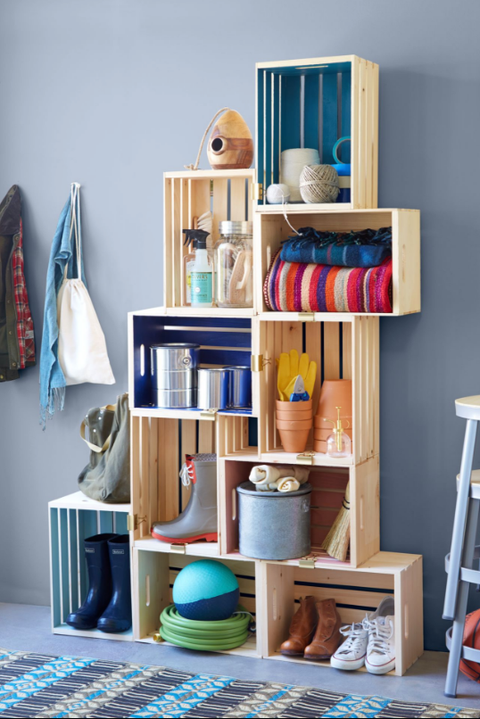 COURTESY OF EMILY HENDERSON
All you have to do is clip them together with binder clips, no hammer or nails required. Position them however you desire, but be sure to keep heavier things stowed in lower crates.
SHOP WOOD CRATES
See more at Style by Emily Henderson»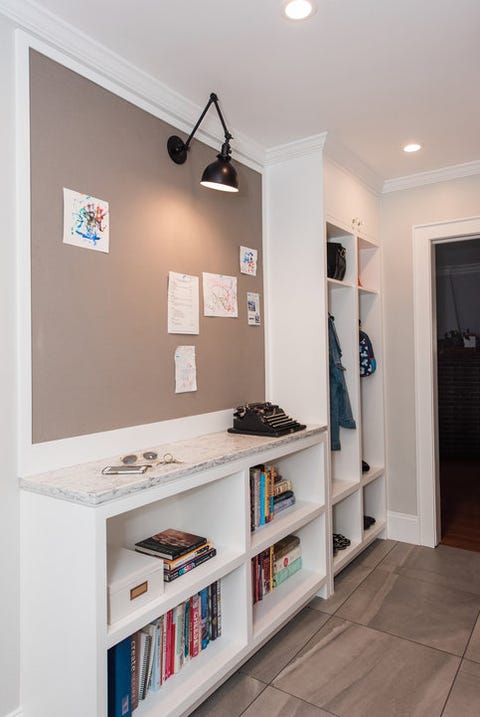 Stick schedules, reminders, and to-dos to an oversized pin board and you won't believe how your family functioned without one.
See more at Idea Space Architecture »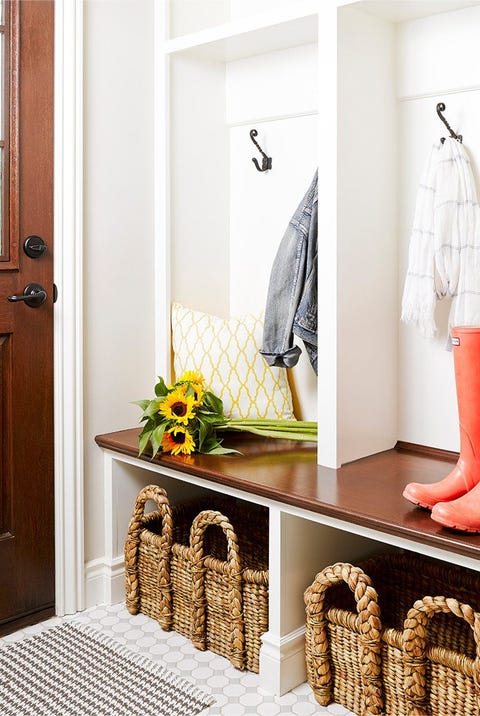 Create individual space for a busy family's belongings so nothing gets misplaced. Slip some baskets with handles beneath a bench to quickly store things that come and go from the house.
SHOP WICKER BASKETS
See more at Bria Hammel »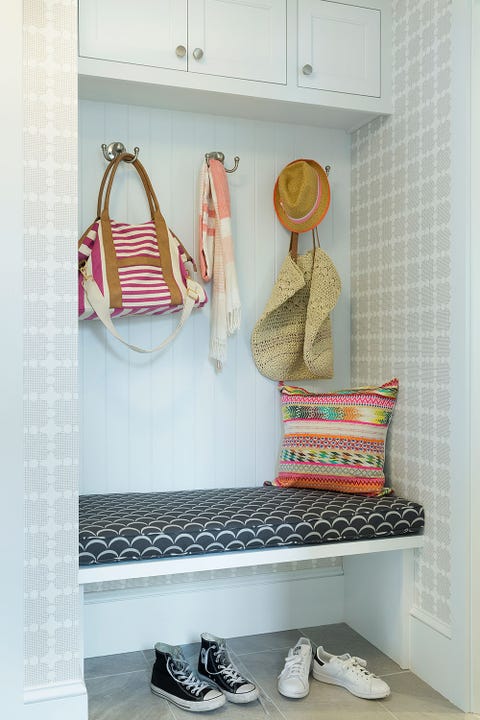 From easy-on-the-eyes wallpaper to colorful textiles, let this little nook be proof that any cheerful print will make even the smallest mudroom feel special.
See more at Lucy Interiors »
8
Make the Floors Eye-Catching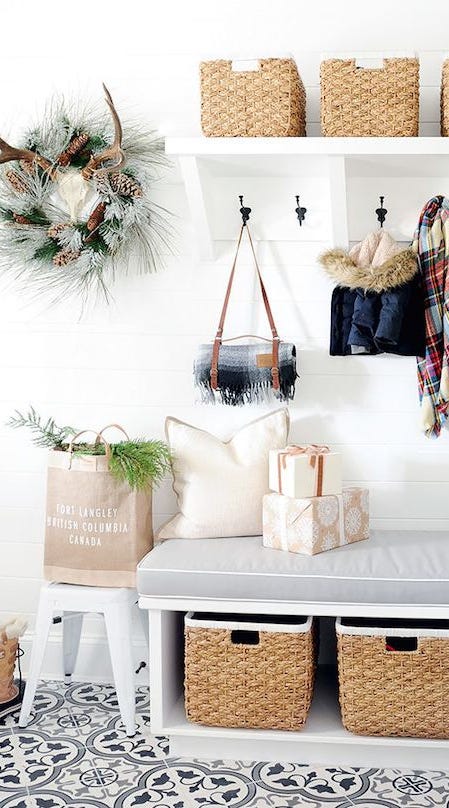 With a bright and unique tile underfoot, keep the walls a simple, crisp white so it doesn't overwhelm the space. Other than looking beautiful, patterned floor tiles will also hide dirt and dust like a champ.
See more at Monika Hibbs »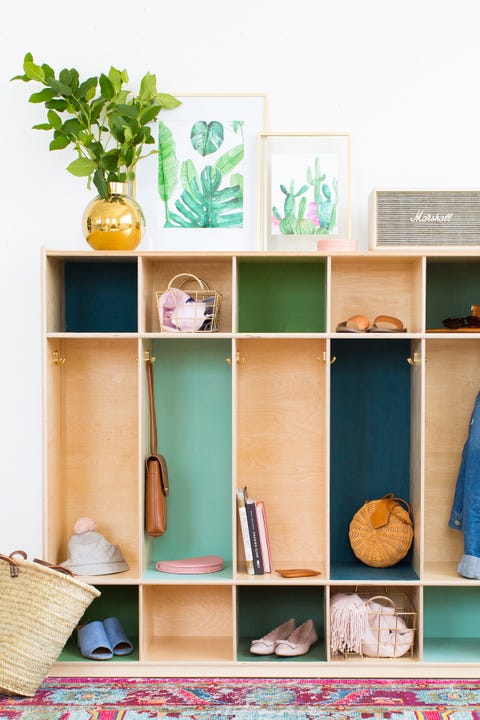 This one is easier than it seems: Simply jazz up the cubbies of a ready-made locker set with a trio of rich colors and watch it naturally corral the clutter.
SHOP WOODEN LOCKERS
See more at Sugar & Cloth»
COURTESY OF PLACE OF MY TASTE
Sure, built-ins are great, but you can make a mudroom out of thin air just by taking advantage of some wall space. Simply put some bins on the ground, some wall-mounted file folders in the middle, and a series of hooks up high.
See more at Place of My Taste »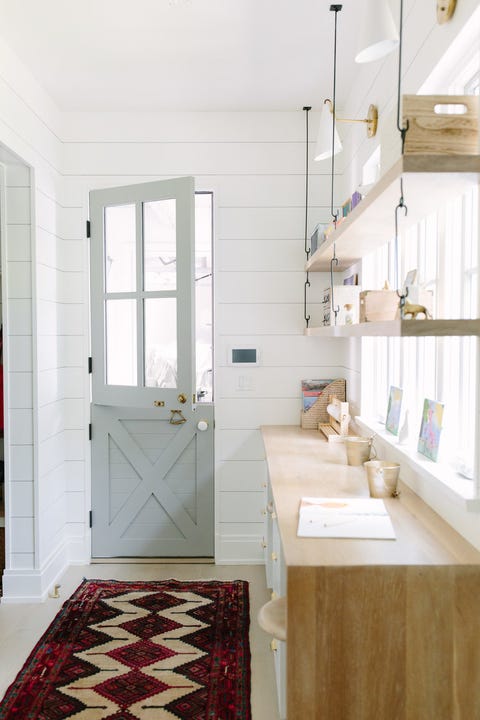 STOFFER PHOTOGRAPHY INTERIORS
Here's proof that a colorful rug can instantly change the look of any room in seconds flat.
SHOP RUNNERS
See more at Kate Marker Interiors »
12
Paint With a Strategic Color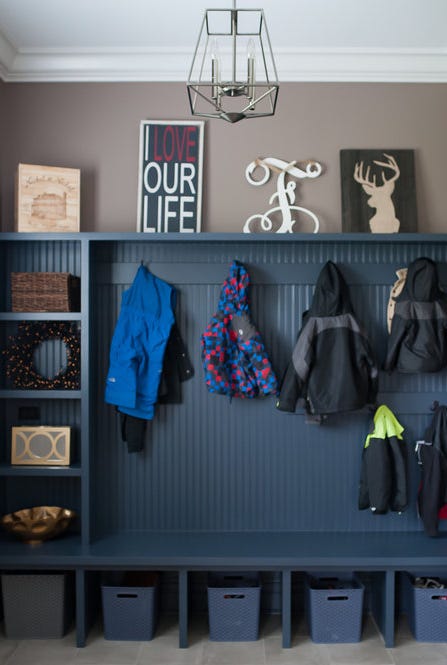 ERIN MCCARTHY OF EKM PHOTOGRAPHY
A coat of rich navy paint on a storage unit camouflages all the things stored inside of it. Genius!
See more at The Design Bar »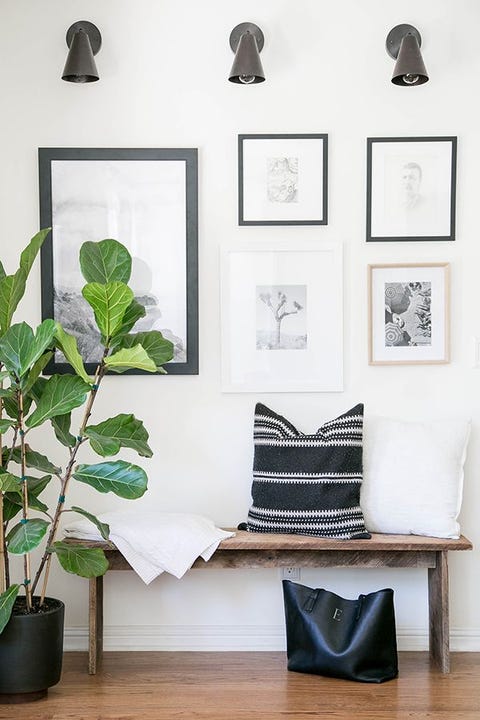 Surround a bench with black-and-white art in mismatched frames to lend a little personality.
SHOP FRAMES
See more at Sugar & Charm »
14
Store Wardrobe Necessities
Tailor your mudroom to hold all the gear that never makes it past the door. That might mean doubling up on shoe storage space and hanging hooks.
SHOP HOOKS
See more at Amanda Reynal »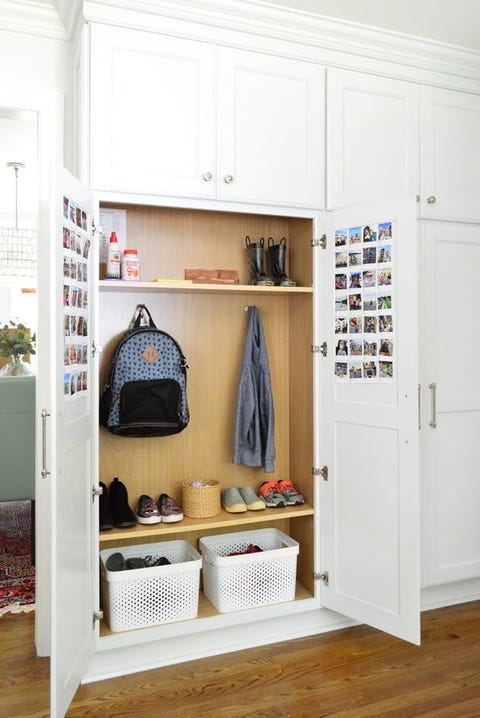 COURTESY OF YOUNG HOUSE LOVE
Perfect for small space dwellers: Dedicate a pre-existing cabinet or closet to function as a drop-spot for bags, shoes, and coats.
["source=goodhousekeeping"]